Sponsored Artist of the Month – Gaby Castel
Working out of her own studio in central Paris, Gaby Castel is the award-winning tattoo artist creating neo-traditional geisha-inspired portraits.
From setting up L'Encre du Kraken to winning award after award at tattoo conventions, Gaby's career has taken her all around the world creating richly detailed, colourful pieces.
We had a chat with Gaby about her inspirations, how she works around the geisha theme, and her hopes for the future!
What inspired you to become a tattoo artist?
Ever since I was young I've watched TV shows like Ink Master and Best Ink, and loved them.
But I never thought I would become a tattoo artist! It was only when I was tattooed by my master and he saw my drawing that he told me he took on apprentices.
What's the best thing about your job?
I would say the best thing is to be able to create what is in my mind and transpose it to the skin, which is a wonderful canvas for art! I also want to help people have more confidence and heal from their trauma, or just accept themselves, that is the best thing.
Where do you find artistic inspiration?
A lot of my inspiration comes from nature, Japanese aesthetics, pop culture, and also lots of different artists like painters and sculptors.
How would you describe your tattoo style?
My art mixes the styles I like - it is a combination of neo-traditional, neo-Japanese, manga, illustration and graphic art.
How does your design process usually go?
What takes me the most time is research - I can spend hours searching for perfect references! When I have enough, I start editing with references and then I draw on it, I paint, add textures, make-up, hair, and a lot more. Each drawing needs one day work minimum.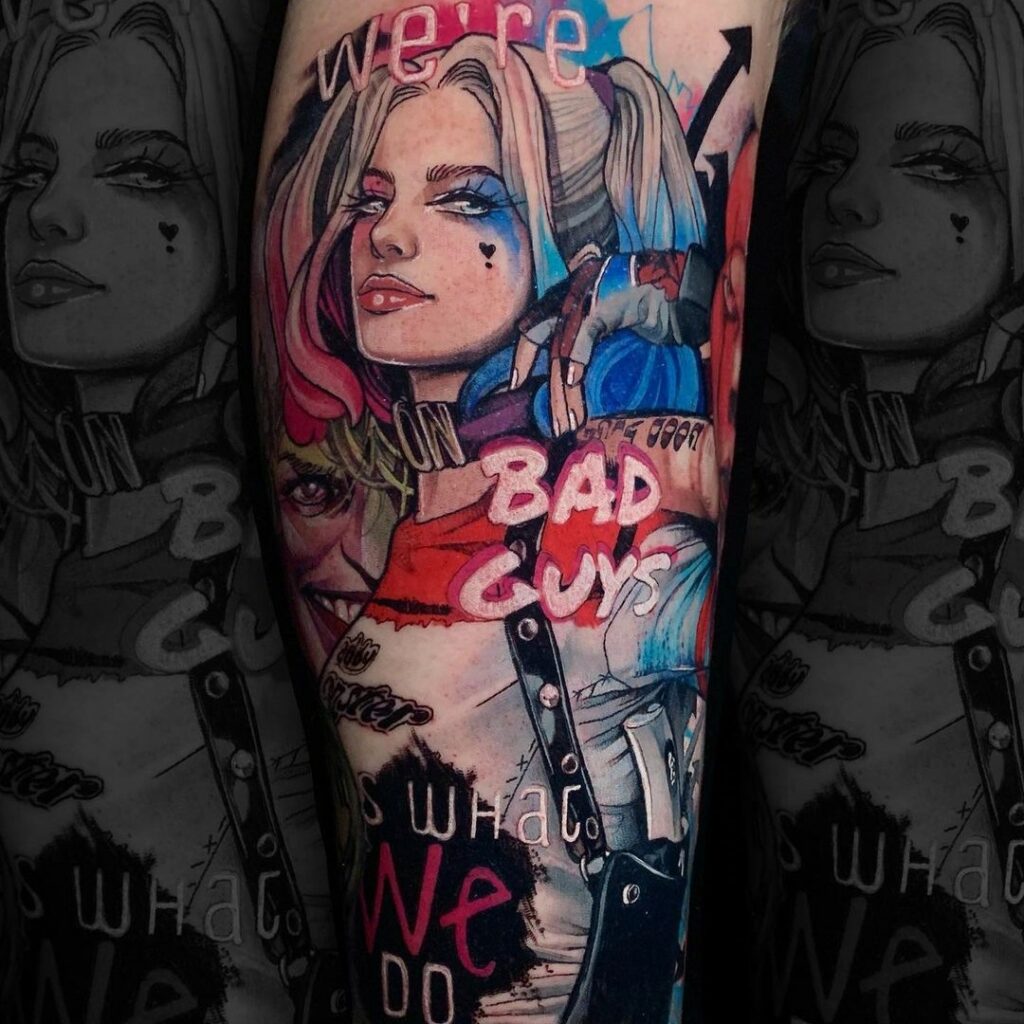 Would you like to do more work in black and grey, or do you prefer colour?
I did a lot of black and grey work in the past but enjoy a more colourful style now! I also like monochromatic art, and black and grey with a touch of colour looks great, so I do that as well. But I find myself to be less good at black and grey work!
What's the smallest tattoo you've done, and what's the biggest?
Wow, that's hard to say! The smallest might be the one letter I did when I was beginning, and the biggest I've done in two days is a sea geisha, tattooed at Corsair Tattoo Ink 2022. The biggest I've done that took more than two sessions was a full leg colour piece with different elements and seasonal geishas.
What are the most interesting variations on the geisha theme that you've done?
For me personally it is the "food" theme geisha I did for a cook (I would like to do more "job related" geisha tattoos) and the "pirate" geisha because I just love pirates. That is why my shop's name is "Kraken's Ink" (L'Encre du Kraken).
You've created a lot of Studio Ghibli-inspired tattoos – is there a character you haven't done yet but would like to?
Oh yes! I would love to do Howl in a female or geisha style, and Chihiro in a badass style!
Who would be your dream partner for a collaboration tattoo?
I have always loved Pirojenko's work, it would be a dream to collaborate. And of course Waler Montero, who inspires me a lot too.
How did you come up with the studio name L'Encre du Kraken?
I am part of a pirate crew, if I can say it like that! My friends and I love rum (Kraken is also a brand name of rum) and I met my loved one at my friend's pirate shop, Flibustier. I wanted to play with words, and ink - "l'encre" stands for the ink of the octopus and for tattoos!
Who else works at your studio?
It is still in creation, but my partner Gentleman Piercing is there to give you the best piercing experience! In terms of tattoo artists, we have Elie Hammond, Mr Zaccharius, Maxime OKO, Bebe, and Robin.
What tattoo equipment do you use?
I have always used Sunskin tattoo machines with KWADRON cartridges (the best combo for me) and I also like FK Irons machines.
For aftercare, it is always Hustle Butter, and Killer Ink for all the rest of course!
You post a lot on TikTok, do you find that useful for getting new clients, or is it just fun?
At first it was for fun! But by some point I had a hundred, then a thousand views on my videos, and I had a lot of clients coming from TikTok, so I have to say it's bringing me some clients. But now I still do it for fun when I feel it. I also want to do more informational videos for people to understand the job we do and the art we make.
How many tattoos do you have, and which is your favourite?
More than twenty for sure, big and small. My favorite one is on my neck – it's a Totoro one.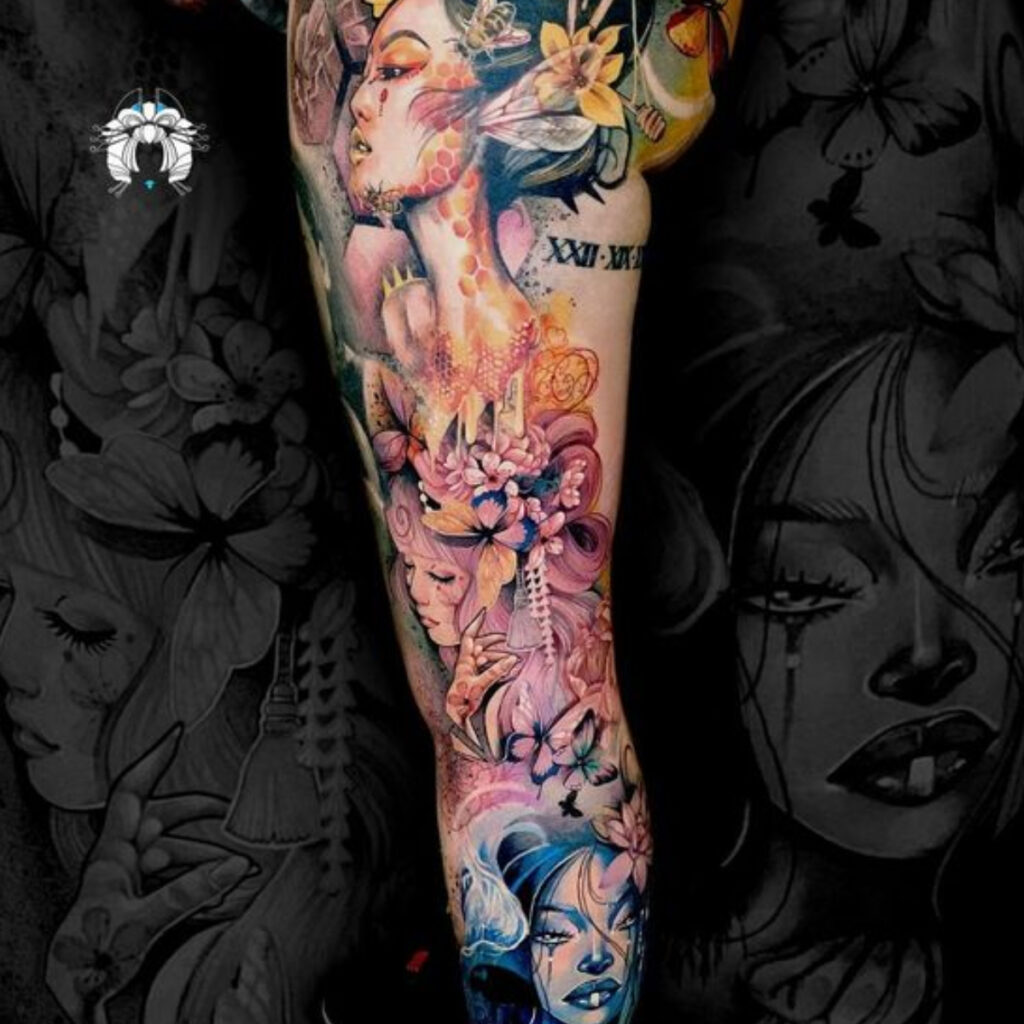 What do you like to do outside of work?
Create! I love to think about creation and drink and have fun with my friends – and enjoy life. I am a cinephile too - I watch a lot of movies!
Which other tattoo artists do you admire?
Waler Montero, Thomas Carli Jarlier, Leguyt, Pirojenko, Dave Koenig, Igor Mitrenga, and a lot more.
You seem to constantly win awards! Which have you won recently?
Oh, thank you so much! The last one was 1st Place Big Piece in Colour, and Best of Show at Corsair Tattoo Ink 2022.
Do you have any tattoo conventions planned for the future?
The ones coming are Deauville Tattoo Festival in France at the end of August, Urban Land Tattoo Expo in Rome in September, and Tattoo Planetarium in Paris this November. More are coming for next year!
What does the future hold for Gaby Castel?
Good question, I don't even know what is coming tomorrow!
But the opening of my first real shop is taking all my time. I am putting all my heart into it and maybe later I would love to teach passionate people into the tattoo world - when I have more experience.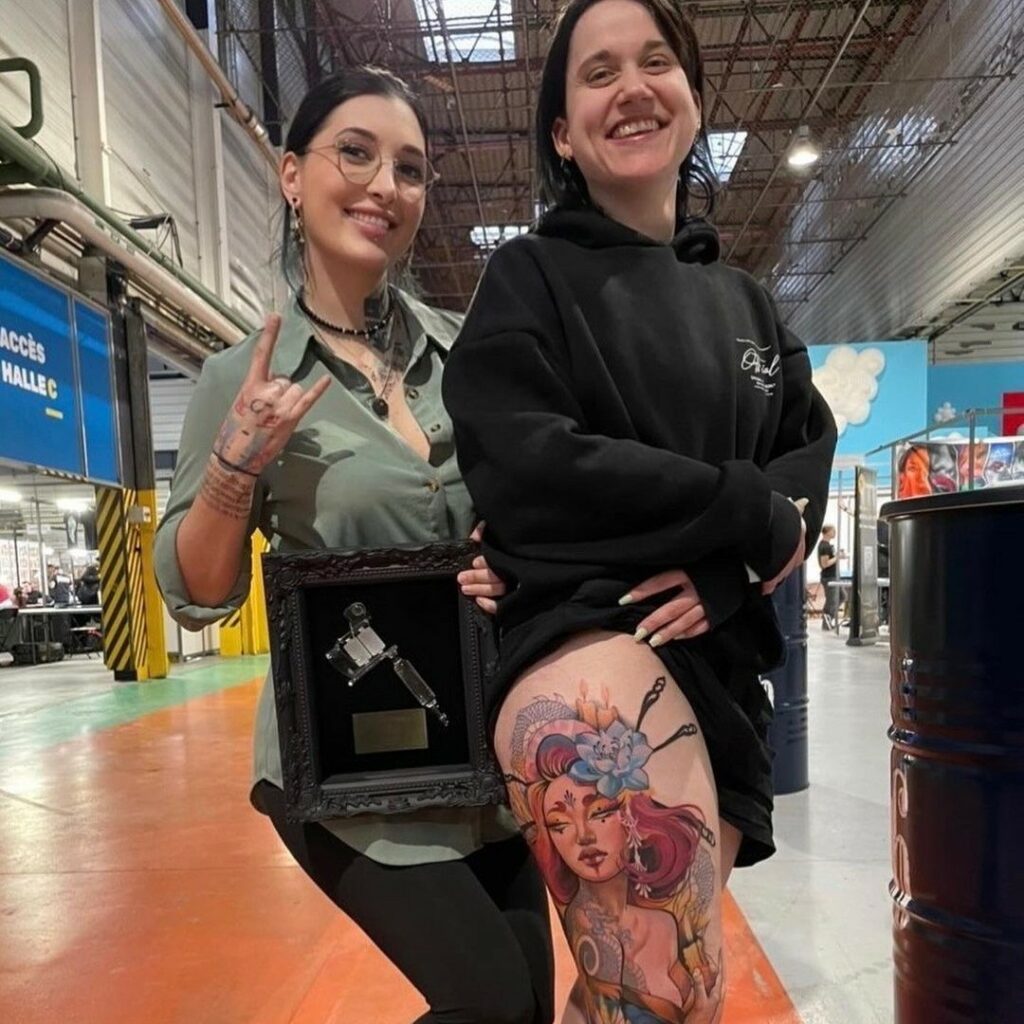 We hope you've enjoyed this interview with Gaby Castel! Make sure to check out her incredible work on Instagram and Facebook and find out when she'll be visiting a convention near you.