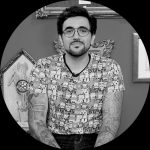 Thomas Carli-Jarlier – Noire Ink
November 28, 2017

November 28, 2017

uk

https://www.killerinktattoo.co.uk/skin/frontend/killer/default/images/logo.svg

https://www.killerinktattoo.co.uk/
We jetted over to Clermont-Ferrand, France to catch up with our sponsored artist Thomas Carli-Jarlier at his Noire Ink studio.
The French artist wowed us again with his incredible black and grey portrait of the late great Jimi Hendrix!
Check out the video!
Over the years, Thomas Carli-Jarlier has forged a reputation for producing some of the best realistic black and grey portrait tattoos that you'll ever see!
It should come as no surprise then that Thomas is a multi-award-winning tattooist, picking up awards like 'Best of Show' and 'Best of Sunday' at this year's Corsair Tattoo Ink convention in France.
Working out of Noire Ink tattoo studio alongside his wife Vasilisa Carli-Jarlier, Thomas is also a member of the Overkame tattoo collective. This tattoo collective comprises other Killer Ink sponsored artists Angelique Grimm, Michael Taguet, Eliot Kohek, and Mathieu Varga.
You can find more of Thomas Carli-Jarlier's work on his Facebook, Instagram and Twitter pages!