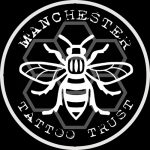 Manchester Tattoo Trust – Anniversary Tattoo Event
May 16, 2018

May 16, 2018

uk

https://www.killerinktattoo.co.uk/skin/frontend/killer/default/images/logo.svg

https://www.killerinktattoo.co.uk/
One year after the terror attack at the Manchester Arena, tattoo artists and studios across Greater Manchester are once again banding together to raise money for the community.
The Manchester Tattoo Trust was set up after the devastating terrorist attack that took place at the Ariana Grande concert in the Manchester Arena on May 22nd 2017.
Led by artist Sam Barber, tattoo artists not only in Manchester but around the world tattooed the iconic Manchester Bee on thousands of people who wanted to pay their respects to the victims and help in the fundraising.
The response was incredible; the JustGiving page set up by Sam managed to hit multiple goals, eventually raising over £580,000 to support the families of those killed or injured in the Manchester Arena attack.

This year, tattoo studios and artists in and around Manchester are holding tattoo events on Sunday May 20th and 27th to raise money for the Manchester Tattoo Trust, the charity's new name.
Tattooists including Killer Ink sponsored artists Sam Barber and Jak Connolly from North of Winter studio will be tattooing Manchester Bees for £50, with multiple designs available.
100% of the proceeds will go to the Manchester Tattoo Trust, which is committed to helping young people in and around Manchester.
You can donate directly to the Manchester Tattoo Trust's JustGiving page or visit the Manchester Tattoo Trust's new website for more information.