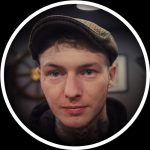 Luke Sayer Interview
May 16, 2019

May 16, 2019

uk

https://www.killerinktattoo.co.uk/skin/frontend/killer/default/images/logo.svg

https://www.killerinktattoo.co.uk/
Luke Sayer has built up a stellar reputation and huge following over the years with his realistic black and grey tattoos. Now it's our turn to put him under the spotlight for our latest interview.
We spoke to Luke about all things tattoo, including how he managed to win the inaugural edition of E4's Tattoo of Artist of the Year back in 2017.
Check it out!
Luke Sayer, a Killer Ink Sponsored Artist of the Month, is currently working at his own tattoo shop in Milnthorpe, Cumbria, where this video was filmed.
Make sure to keep up to date with latest work by following him on Facebook, Instagram and Twitter!