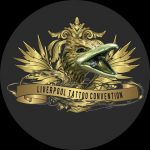 Killer Ink Tattoo at Liverpool Tattoo Convention 2018
May 30, 2018

May 30, 2018

uk

https://www.killerinktattoo.co.uk/skin/frontend/killer/default/images/logo.svg

https://www.killerinktattoo.co.uk/
Another sunny weekend in May brought with it the 11th edition of the Liverpool Tattoo Convention, our hometown show!
At the convention, we shot our latest video featuring eye-catching performers, a host of great tattoo artists and some crazy collaborations!
Give it a watch below!
For another year, the 2018 Liverpool Tattoo Convention was presided over by our good friend and Hustle Butter Deluxe creator Richie Bulldog, who was the M.C. for the weekend.
In the awards department, there were some big wins for Killer Ink sponsored tattoo artists.
An incredible collaboration between our sponsored artists Jay Freestyle and Guido Schmitz, as part of the fourth edition of The Kaos Theory Project, won '2nd Best of Show' and '2nd Best Collaboration'.
Scotland-based tattooist Yarson Stahowic took home three awards at the event ('Best Realism', 'Best Large Black & Grey' and '2nd Best Small Black & Grey'), while Kyle 'Egg' Williams from Grindhouse Tattoo Productions claimed 'Best Small Black & Grey' for his portrait of Kurt Cobain.
There were also two special awards given to our tattoo artists before the public convention days: Samantha Ford was named 'UK Best Female Artist 2018', before Ryan 'The Scientist' Smith took home 'People Choice Artist 2018' for the second year running.
Congratulations to all of our artists and we hope to see you all at other conventions throughout the year!