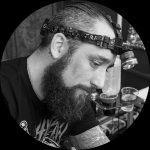 Ryan 'The Scientist' Smith
April 25, 2017

April 25, 2017

uk

https://www.killerinktattoo.co.uk/skin/frontend/killer/default/images/logo.svg

https://www.killerinktattoo.co.uk/
'The Scientist'. No, it's not the name of a boring song by Coldplay, it's the nickname given to Ryan Smith, one of the UK's top tattoo artists.
We met up with the travelling tattooist (and Killer Ink sponsored artist) Ryan Smith to film him continuing with the awesome leg sleeve that won him '3rd Best Ornamental' at the 2016 London Tattoo Convention.
Ryan was up in Liverpool guest spotting at Ant and Hazel Nicholl's tattoo studio Design 4 Life, so it was a great time to catch up with him.
Check out the video below to see The Scientist at work!
Although he can be found guest spotting all over the world, Ryan 'The Scientist' Smith is the lead artist at No Regrets Studio Exeter. NR Studios are based in Exeter and Cheltenham, with a third exciting 'concept' studio opening up in London this summer.
Ryan's large ornamental and realism pieces have been catching the eye at tattoo conventions everywhere. He won 'Best of Show' at the first ever Tattoo Collective convention in London in February, as well as taking the top prize at the 2017 Milano Tattoo Convention for a collaboration piece with friend and artist Jay Freestyle.
As well as being sponsored by Killer Ink Tattoo, Ryan is also a Cheyenne Professional Tattoo Equipment Artist and can be seen using the awesome Cheyenne HAWK Pen to create his masterpieces. He is also supported by World Famous Ink and uses its products to get that vibrant colour in his tattoos.