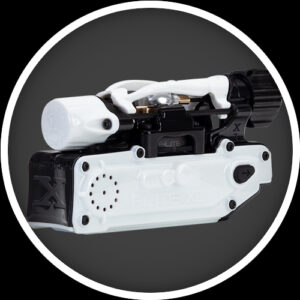 Inkjecta Flite X1 Wireless Tattoo Machine & Grips
It's been an exciting year for Australian tattoo machine builders Inkjecta, with the creators of the popular Flite Nano range of rotaries having launched their eagerly-anticipated wireless tattoo machine, the Flite X1.
The Inkjecta Flite X1 is a wireless, battery-powered rotary tattoo machine that is choc-full of innovative technology and offers an abundance of adjustment options.
Offering up to 8 hours of runtime, the Flite X1 comes with two interchangeable and rechargeable Li-Ion batteries in the box, as well as a battery charger, so you can adjust the balance of the tattoo machine to suit your style.
Thanks to the intuitive on-board controls, you can quickly and easily adjust both the voltage and needle depth of your machine. As with many Inkjecta rotaries, the Flite X1 is super lightweight, topping the scales at only 139 g with the small battery and 144 g with the large one.
At the heart of the Inkjecta Flite X1 is not one, but two custom nanotechnology motors - one for the drive and the other for the needle depth adjustment. It is also fully-compatible with Inkjecta Flite Nano cams and needle bars.
Make sure you watch our full video review of the Inkjecta Flite X1 wireless tattoo machine below!
The guys from Inkjecta didn't stop there, as they followed up the release of their first wireless tattoo machine with not one, but two grips that have been specifically-designed for use with the Flite X1.
Introducing the Inkjecta Flite X1 Ergo and Sniper grips, which are compatible with all major cartridge brands. They are also fully-autoclavable, ergonomically-designed and available in different materials, weights, sizes, and colours to suit your tattooing style and preferences.
As the name suggests, the Flite X1 Ergo grips feature an ergonomic design that is comfortable to hold during longer tattooing sessions. The X1 Ergo grips are made from one of two materials: Aluminium and Delrin, with the latter the ideal material used in parts designed to replace metal.
Inkjecta followed-up the creation of these Ergo grips with the Flite X1 Sniper grips, which have a slimmer profile and are available with two diameters: 30 and 35 millimetres.
Like with the Ergo grips, the Inkjecta Flite X1 Sniper grips are made from either Aluminium or Delrin, with the Delrin versions lighter than their Ergo counterparts.
Both the Flite X1 Ergo and Sniper grips are a must-have for artists using the Inkjecta Flite X1 wireless tattoo machine. You can check out our video review of the grips below!