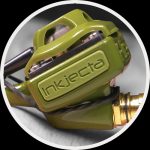 Inkjecta Flite Nano
April 5, 2018

April 5, 2018

uk

https://www.killerinktattoo.co.uk/skin/frontend/killer/default/images/logo.svg

https://www.killerinktattoo.co.uk/
Inkjecta Flite Nano rotaries are dedicated cartridge tattoo machines that are suitable for lining, shading and colouring across all styles.
With three versions of the Flite Nano available to order from Killer Ink Tattoo, it can be hard to know which is best for you.
In our latest video, we take a look at the three iterations of the Inkjecta Flite Nano (Lite, Titan and Elite) and go through the similarities and differences between the machines.
Check it out below!