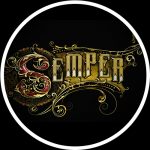 Christmas with David Corden & Semper Tattoo Studio
December 20, 2018

December 20, 2018

uk

https://www.killerinktattoo.co.uk/skin/frontend/killer/default/images/logo.svg

https://www.killerinktattoo.co.uk/
Christmas is nearly here, so we decided to head up to the beautiful city of Edinburgh to interview renowned tattoo artist David Corden at his Semper Tattoo studio.
We managed to tear ourselves away from the Christmas markets long enough to film the artists at the studio working on some excellent tattoos.
Make sure to give it a watch and spread that Christmas cheer!
David Corden is one of the most popular tattooists around today and has been tattooing for over 10 years.
Based at his Semper Tattoo studio in Edinburgh's historic Grassmarket, David specialises in colour realism portraits and pin-ups, and can bring any subject matter to life!
Tattooing alongside David at Semper Tattoo are fellow artists Michelle Maddison, Claire Hamill, Joanne Baker, Keira Kirkpatrick, Elliott Wells, and Tom Strom.
Each artist brings a different style to the studio, meaning a trip to Scotland's capital city is perfect for those looking for a tattoo of any style!