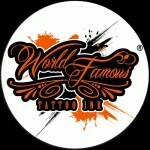 World Famous Tattoo Ink
September 12, 2016

September 12, 2016

uk

https://www.killerinktattoo.co.uk/skin/frontend/killer/default/images/logo.svg

https://www.killerinktattoo.co.uk/
Ready to ignite your next idea and set your work on fire? Killer Ink is now stocking World Famous Tattoo Ink!
World Famous Ink products are used and loved by tattoo artists worldwide, so now you too can get your hands on their awesome inks.
If you're wanting some new inks for colour work, World Famous Tattoo Ink has a huge range for artists.
All of their inks are vegan and cruelty-free, and are sterilised with gamma radiation (so they're like the Hulk, but cooler…).
Come see our range of World Famous Tattoo Ink products.