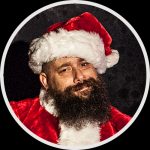 'Twas the Night Before Christmas…
December 22, 2017

December 22, 2017

uk

https://www.killerinktattoo.co.uk/skin/frontend/killer/default/images/logo.svg

https://www.killerinktattoo.co.uk/
Killer Ink has teamed up with Santa Claus to bring some Christmas cheer in our latest video!
Only it's not jolly old Saint Nick in the suit, but our good friend and supreme hustler Richie Bulldog!
Merry Christmas to all, and you can't knock the hustle!
Richie Bulldog, our sharp dressed man and very merry Kris Kringle for the evening, is the co-founder of the best tattoo care around, ho-ho-Hustle Butter Deluxe.
Along with fellow hustler Seth Love, Richie is also the mastermind behind the Luxury Hustle Wear clothing range and two New York-based Hustlers Parlour tattoo studios in Brooklyn and the Bronx.
So from the entire Killer Ink team and Richie Bulldog, we wish you all a happy Christmas and we'll see you in 2018!