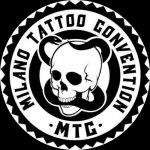 Tattoo Timelapses – Milano Tattoo Convention 2018
February 22, 2018

February 22, 2018

uk

https://www.killerinktattoo.co.uk/skin/frontend/killer/default/images/logo.svg

https://www.killerinktattoo.co.uk/
We filmed timelapses of Killer Ink Tattoo sponsored artists Lucas Ferreira, Jose Gonzalez and Mathieu Varga working on some killer tattoos at Milano Tattoo Convention 2018.
Check them all out below!
Lucas Ferreira
Brazilian-born artist Lucas Ferreira was working on a cool neo-traditional cat tattoo when we filmed him in Milan.
Jose Gonzalez
We caught Spanish tattooist Jose Gonzalez tattooing a dope "painter's skull" at the 2018 Milano Tattoo Convention.
Mathieu Varga
French artist Mathieu Varga tattooed this awesome black and grey work in the fashion capital of the world when under our spotlight.