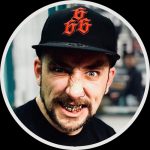 Sponsored Artist of the Month – Ryan Smith
August 1, 2018

August 1, 2018

uk

https://www.killerinktattoo.co.uk/skin/frontend/killer/default/images/logo.svg

https://www.killerinktattoo.co.uk/
World-renowned, award-winning tattoo artist Ryan 'The Scientist' Smith is a master of intricate ornamental tattoos - and now he's turning his hand to vlogging!
After leaving behind a potential career in music production, Ryan joined the world of tattooing in 2013 and, like many artists, tried his hand at various styles to find his true calling.
After experimenting with new school, horror and black and grey styles, to name a few, Ryan settled on an ornamental style that combines henna, realism and dot work.
Over the years, Ryan continued to develop his style and is now one of the finest ornamental tattooists around.
Although he can be seen at conventions and guest spots all over the world, Ryan can primarily be found at NR Studios, where he is the lead artist. More recently, Ryan has been working at fellow Killer Ink sponsored artist Jay Freestyle's Freedom & Flesh studio in Amsterdam.
A lover of collaborations, Ryan is the mastermind behind The Kaos Theory Project – a series of ambitious events joining world-class artists together for collaborations.
Constantly looking for new ways to shake things up, Ryan has now launched a new YouTube channel which will see him try his hand at vlogging.
His new channel will feature his intricate tattoo work, along with footage from conventions and the Kaos Theory Project, interviews with artists, technology reviews, and more!
To create his eye-catching work, Ryan uses various supplies from Killer Ink Tattoo, including machines and cartridges from Cheyenne Professional Tattoo Equipment, World Famous Ink, Dermalize Pro, and Stencil Forte.
Make sure to keep up to date with Ryan 'The Scientist' Smith by following him on Facebook, Instagram and Twitter.