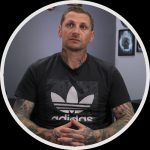 Mark Bester & The Tattoo Academy
January 11, 2018

January 11, 2018

uk

https://www.killerinktattoo.co.uk/skin/frontend/killer/default/images/logo.svg

https://www.killerinktattoo.co.uk/
We headed up to Stockton-on-Tees at the end of 2017 to catch up with our sponsored artist Mark Bester at his Marked for Life tattoo studio.
While we were there, we filmed him leading a 'colour techniques' workshop for The Tattoo Academy.
Run by Mark and based in his studio, The Tattoo Academy offers higher education (practical and theory) for professional tattoo artists, as well as painting and design seminars and workshops.
Give it a watch!
Mark Bester is a multi-award-winning tattoo artist that specialises in colour realism, although he is equally adept with black and grey work.
Last year's Tatcon Blackpool saw Mark take home an impressive haul of five trophies, including 'Best Female Composition' and '2nd Best of Show'.
Check out more of Mark Bester's work on Facebook and Instagram. To follow the latest updates from The Tattoo Academy, head over to their Facebook and Instagram pages.