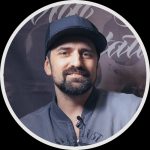 John Maxx – Stigma-Rotary® Pro Artist
June 7, 2017

June 7, 2017

uk

https://www.killerinktattoo.co.uk/skin/frontend/killer/default/images/logo.svg

https://www.killerinktattoo.co.uk/
After interviewing Karina Cuba at the 2017 Milano Tattoo Convention, we got the chance to speak to her fellow Stigma-Rotary® Pro Artist John Maxx about his tattooing style and what machines he uses during the process.
We caught John Maxx working on a killer black and grey owl piece using his Stigma-Rotary® tattoo machines.
As John is a Stigma-Rotary® Pro Artist, we wanted to get his thoughts on Stigma®'s new machines and cartridges.
Check out the video below to see what he was working on in Milan and find out his thoughts on the new Stigma-Rotary® products.