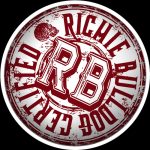 Hustle Butter Deluxe Range
August 15, 2019

August 15, 2019

uk

https://www.killerinktattoo.co.uk/skin/frontend/killer/default/images/logo.svg

https://www.killerinktattoo.co.uk/
If you're looking for the world's finest tattoo care, you've come to the right place.
Whether it's the original Hustle Butter Deluxe, the CBD-infused Hustle Butter C.B.D. Luxe or the latest anti-microbial foam wash, Hustle Bubbles Deluxe, you can be sure that any product from the supreme Hustler Richie Bulldog will be perfect for your tattoo care needs.
In our latest video review, we take a look at the range of products from Richie and Hustle Butter and explain just why they're so well loved by artists across the globe.
Featuring demonstrations on how to use these organic, vegan-friendly products by world-class tattoo artist Anrijs Straume.
You can't knock the hustle!