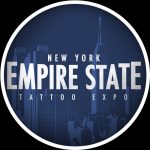 Hustle Butter Deluxe - New York Empire State Tattoo Expo 2019
August 22, 2019

August 22, 2019

uk

https://www.killerinktattoo.co.uk/skin/frontend/killer/default/images/logo.svg

https://www.killerinktattoo.co.uk/
We headed across the pond to the New York Empire State Tattoo Expo 2019 to film our latest video with supreme Hustler and M.C. Richie Bulldog and Hustle Butter Deluxe!
While in New York, we captured some of the world's best tattoo artists working on incredible tattoos with the help of Hustle Butter Deluxe's range of tattoo care products.
Check out the video below!
The 2019 New York Empire State Tattoo Expo proved to be yet another incredible event with excellent tattooists, informative seminars and a whole lot of hustlin'!
Special shout out goes to Killer Ink sponsored artist Igor Mitrenga who managed to pick up 'Best of Show' with an awesome piece that he did in collaboration with fellow Hustle Butter Deluxe pro artist Levgen Knysh!
You can't knock the hustle!