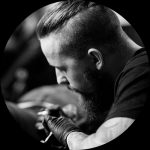 Damian Gorski – Ushuaia Tattoo London
March 21, 2017

March 21, 2017

uk

https://www.killerinktattoo.co.uk/skin/frontend/killer/default/images/logo.svg

https://www.killerinktattoo.co.uk/
Ushuaia Tattoo London is the home to some of the UK's finest artists, including abstract/realism virtuoso Damian Gorski, one of Killer Ink's sponsored artists and owner of the studio.
We headed back down to London recently and made our way to Fulham to film Damian working on an awesome new tattoo using our supplies.
Check out the video below to see one of his latest pieces!
Damian Gorski has been working as a professional tattoo artist since 2013 and always dreamt of opening his own studio. He turned the dream into reality when he opened Ushuaia Tattoo London in Fulham.
About to celebrate its one year anniversary in April, Ushuaia Tattoo London has been a great success with incredible resident artists working in the studio and many international artists guest spotting.
But let's not forget about Damian Gorski, aka Gorsky, who has produced some of the best realism, surrealism and abstract tattoos, both in colour and black and grey, over the last few years.
He's also picked up numerous awards for his tattoos, including '2nd Best Realistic' at the first ever Tattoo Collective convention in London last month.