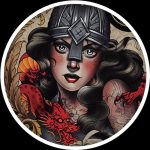 Barcelona Tattoo Expo 2018 Video
December 13, 2018

December 13, 2018

uk

https://www.killerinktattoo.co.uk/skin/frontend/killer/default/images/logo.svg

https://www.killerinktattoo.co.uk/
The Barcelona Tattoo Expo returned to the Catalan capital for another year of incredible tattoos and jaw-dropping extreme sports - and Killer Ink was there to catch it all on film!
With more artists attending the expo than ever before, this may just be the best year yet.
You don't want to miss this one!
Our first time attending the Barcelona Tattoo Expo was a memorable affair, and it was great to see many familiar faces at the convention!
Special congratulations go to our good friend Benjamin Laukis, who managed to pick up '2nd Best of Saturday' for a sick piece.
It wasn't just tattooing that caught the eye in Barcelona, as there were also breakdancing competitions, a Ferrari 458 Italia supercar that was open to artists painting it, and some mighty fine mojitos!
We just want to say thank you to everyone who came over to say hi at the show and we hope to see you all again next year!