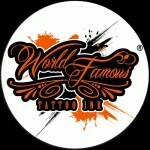 World Famous Ink
July 16, 2019

July 16, 2019

uk

https://www.killerinktattoo.co.uk/skin/frontend/killer/default/images/logo.svg

https://www.killerinktattoo.co.uk/
World Famous Ink brings you premium quality tattoo ink with super high pigment content and an amazing flow rate.
With a great palette of colours, these inks will make your job as an artist much easier, and make your tattoos really pop! Plus, all World Famous Ink colours are vegan-friendly and cruelty-free!
As well as individual bottles, we also stock complete sets from some of the world's best artists, including Damian Gorski, Jay Freestyle, Ilya Fom, A.D. Pancho, and more!
Thanks to the huge range of colours offered by World Famous Ink, you can be sure that there are a variety of tattoo inks that suit your preferred style of tattooing.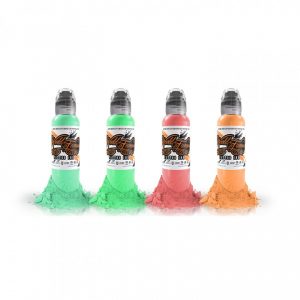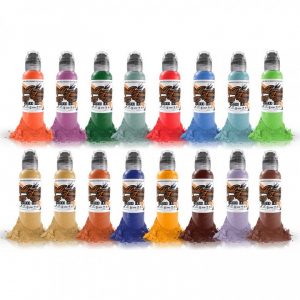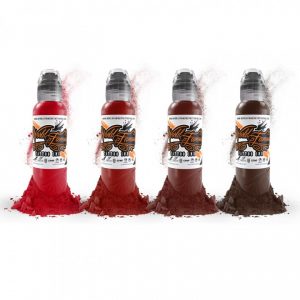 For those specialising in colour realism, World Famous Ink has released numerous artist signature sets featuring perfect hues to elevate your realistic landscapes and wildlife themes.
Check out the likes of Gorsky's 'Four Seasons' ink sets (Sinful Spring, Retro Summer, Golden Harvest and Mad Winter), as well as Ilya Fom's Animal Kingdom and Oleg Shepelenko's Colour Realism sets for eye-catching tones.
If horror-themed tattoos are your forte, you can't go wrong with the Blood Colour and Zombie ink sets by Maks Kornev, along with Big Joel's Blood Works, Vincent Zattera's Rotten Green, and Nuno Feio's Graveyart.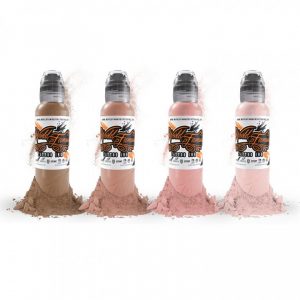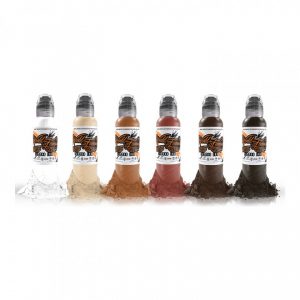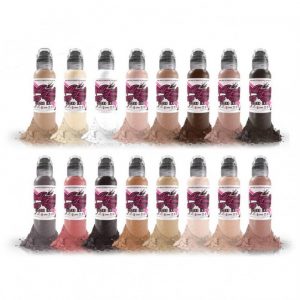 To create lifelike skin tones, make sure to try Maks Kornev's Pink Skintone and Michele Turco's Colour Portrait sets, as well as the aforementioned Oleg Shepelenko's Colour Realism ink set.
Although it can be used for natural-looking skin tones, the World Famous Ink Pink Ribbon set has been specially-developed in co-operation with Stacie-Race Weir and Samantha Rae for Areola Restorative Tattoos. Definitely consider Pink Ribbon colours if you're creative realistic, life-long areola tattoos!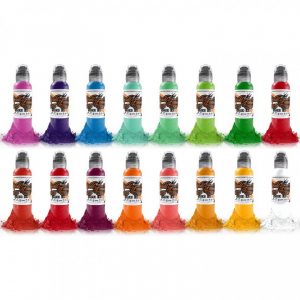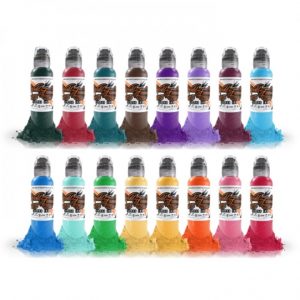 Traditional artists with oriental-inspired work should head to Master Mike's Asian Colour set, as well as Hori Hui's Taiwanese Ink set, for those vivid tones that will stand the test of time.
World Famous Ink partnered with Pro-Team member and Killer Ink sponsored artist Jay Freestyle to create his own set for watercolour work. The Jay Freestyle Watercolor Set is ideal for any artist who tattoos in a bright, watercolour style.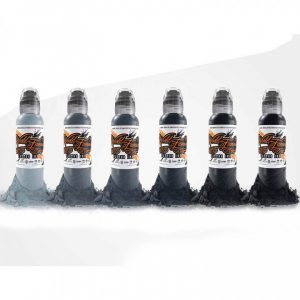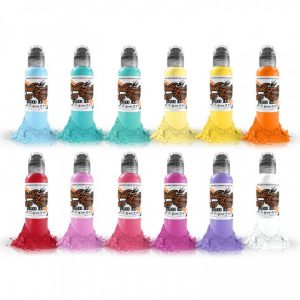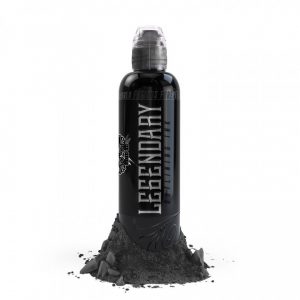 We also stock both colour and black and grey pastel colour sets from World Famous Ink. For black and grey fans, the A.D. Pancho Pastel Grey set is a great choice (used by the master himself!), while the World Famous Ink Pastel Colour Set contains the tattoo inks of choice for those wanting a colourful selection of pastel hues.
Complete sets aside, the range of standard colours from World Famous Ink is both plentiful and of a high-quality, perfect for a range of styles. And who could forget the aptly-named Legendary Outlining Black? It does exactly what it says on the bottle.