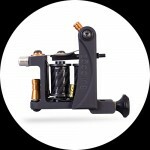 Theo Pedrada Bulldog 2 Liner
November 2, 2016

November 2, 2016

uk

https://www.killerinktattoo.co.uk/skin/frontend/killer/default/images/logo.svg

https://www.killerinktattoo.co.uk/
When being a world-renowned tattoo artist isn't enough, sometimes you just need to get your own tattoo machine too…
Portuguese tattoo artist and our good friend Theo Pedrada is known for his killer work, but did you know that he also has his own tattoo machine?
Introducing the Theo Pedrada Bulldog 2 Liner, built and designed by the man himself. With a frame that is cut from a single piece of aircraft aluminium, the tattoo machine is very solid but light, weighing just 198 grams.
It's also a great looking piece of equipment, thanks to the sand-blasted treatment and black anodised finish.
The Bulldog 2 Liner features eight wrap coils, along with both RCA and Clip Cord connections.
As the name suggests, the Theo Pedrada Bulldog 2 Liner excels when doing any and all lining work.