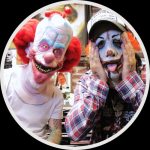 Killer Ink & Grindhouse Tattoo Productions
October 27, 2017

October 27, 2017

uk

https://www.killerinktattoo.co.uk/skin/frontend/killer/default/images/logo.svg

https://www.killerinktattoo.co.uk/
We teamed up with the guys from Grindhouse Tattoo Productions to bring you a truly horrific video this Halloween!
Alex Wright and Kyle 'Egg' Williams put us in the Halloween mood with their tattoos of Bram Stoker's Dracula and Pennywise from this year's blockbuster IT.
You definitely don't want to miss this one! Or you'll float too…
Grindhouse Tattoo Productions is a studio based in Macclesfield, UK and the home of two of our multi-award-winning artists, Alex Wright and Kyle 'Egg' Williams.
Alex and Kyle both specialise in horror and photo realism tattoos, so we thought that they would be perfect for our Halloween video!
If you're a fan of cult horror films, Alex has made a name for himself tattooing VHS cover art on his clients, while Kyle's black and grey work has wowed at conventions across Europe.
Make sure to check out the Grindhouse guys over on the studio's Facebook and Instagram pages!