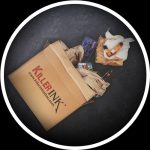 Killer Ink Goes Green with Eco-Friendly Packaging
September 9, 2019

September 9, 2019

uk

https://www.killerinktattoo.co.uk/skin/frontend/killer/default/images/logo.svg

https://www.killerinktattoo.co.uk/
We at Killer Ink Tattoo are always aiming to reduce the impact that we have on our planet, and we are happy to announce that our packaging is now 100% plastic-free!
Over the last couple of years, plastic pollution has become a huge concern to us, as it has with the rest of the world.
We have been looking at ways in which we can massively reduce our use of plastic as a company, which has led us to our new 100% plastic-free, eco-friendly packaging.
All orders from Killer Ink will be packaged with recyclable paper, rather than bubble wrap or any form of plastic wrap. In addition, the boxes we use to ship your orders will be sealed with environmentally-friendly paper tape.
We believe that taking these steps will result in a huge reduction in the amount of plastic packaging that we use as we continue to look towards a greener future.