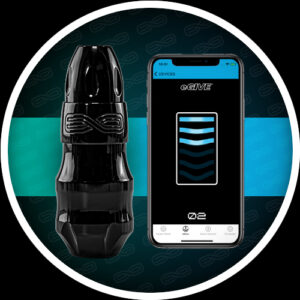 FK Irons EXO & eGive
The FK Irons EXO is a modular rotary that follows on from the US manufacturer's Spektra Flux wireless tattoo machine and offers unstoppable power, whether wired or wireless.
Fitted with the same 9-Watt brushless motor that features in the Flux, the EXO is ideal for lining, colour packing, and solid colour work, and requires less passes to saturate ink, therefore reducing trauma to the skin.
FK Irons' EXO machine includes a 40 mm ergonomic grip, making it more comfortable to use during longer tattooing sessions. The grip is also forward-weighted to give the rotary a pen-like feel that helps eliminate wrist pain and allow for maximum needle control.
There are three stroke lengths to choose from when ordering the FK Irons EXO: 2.5, 3.2 and 4.0 mm, with the best version for you simply coming down to preference and the way you tattoo.
Depending on your preference, the FK Irons EXO can be used wired or wireless. The included RCA Bolt allows you to use the tattoo machine with a traditional power supply and RCA cable, as well as offering the ability to pair the rotary with the DarkLab Hover power supply to enable eGive.
You can quickly and easily detach the RCA Bolt and replace it with a PowerBolt battery pack for up to 10 hours of run-time if you prefer wireless tattooing. Using the PowerBolt also allows you to connect the EXO to the DarkLab App via Bluetooth for future updates and to utilise eGive.
So what exactly is eGive? As the name suggests, this feature allows you to electronically control the amount of "give," or resistance of the needle upon impact the skin, on tattoo machines – even though with a direct drive. This enables tattoo artists to alter the softness or hardness of the hit of their machines to achieve specific results.
Using the DarkLab App or PowerBolt, you can adjust the eGive of your EXO or Flux in 6 settings, from 0 to 5, with 0 being no give (therefore the hardest hit) and 5 corresponding to the softest hit.
Check out the video tutorial below on how to use eGive!