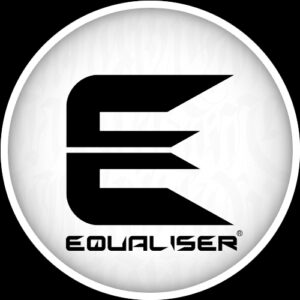 Equaliser Tattoo Machines
KWADRON may be best known for its high-quality cartridges and needles, but you can be sure that its range of Equaliser-branded tattoo machines are just as amazing!
All Equaliser tattoo machines have been designed by KWADRON in Poland, made from top quality materials and perfect for a range of tattooing styles.
The Equaliser Proton was KWADRON's first pen-style rotary tattoo machine and features an advanced gear system that makes it very quiet and reliable.
This cartridge-dedicated machine has a frame made from the highest-quality anodised aluminium and offers a complete lack of vibration.
We also offer separate 25 mm aluminium grips for your Proton, so you can use these while your other one is in the autoclave.
KWADRON followed up from the Proton by releasing a variant called the Equaliser Proton Enduro, which has a similar pen-shaped design, but tops the scales at 10 grams less, which makes it easier to use over long tattooing sessions.
Equaliser's Enduro pen is a very quiet tattoo machine that offers almost no vibration when running. It is ideal for all types of work, whether it's lining, shading or colour packing.
The Equaliser Mikron from KWADRON is an incredibly small and lightweight rotary tattoo machine, weighing in at just 55 grams!
Its ergonomic shape makes it very comfortable to work with and it is compatible with both screw-on-style grips and standard cartridge grips with a backstem.
The Equaliser Mikron Turbo is differentiated from the Mikron by its longer, marker pen shape, although both machines are cartridge-dedicated rotaries with a 4.5 W Faulhaber motor and 3.5 mm stroke length.
Unlike the standard Mikron, the KWADRON-designed Mikron Turbo also features a hidden RCA connection at a 35-degree angle for optimal durability and reliability.
The Equaliser Drop Pen is a rotary tattoo machine with a compact, ergonomic shape that fits perfectly in your hand.
Measuring just 9 cm in length and 35 mm in width, the small size of the Drop Pen makes this machine from KWADRON perfectly balanced and helps to reduce fatigue during long tattooing sessions.
At the heart of the Equaliser Drop Pen is a 6 Watt motor that guarantees a hard hit and is suitable for pushing the machine to excel at any style of tattooing, whether it's lining, shading or colour packing.
The Equaliser Mini Spike V2 is a rotary tattoo machine that is compatible with both cartridges and standard tattoo needles and offers the possibility of working with disposable and reusable grips, whichever you prefer.
Although the V1 was a machine dedicated to shading, the addition of an adjustable stroke length from 2.4 to 4.0 mm means that the Mini Spike V2 is now suitable for lining, shading and colour packing.
The Equaliser Wireless Tattoo Pen is a user-friendly wireless tattoo machine with a built-in battery - no more cables and power supplies!
Equaliser's wireless machine has an aluminium housing and features a clear digital display and three buttons for operating the machine.
It has a 4.5 W motor, a 3.5 mm stroke, direct drive, and built-in Jump Start. The battery within offers up to 8 hours working time and will take around 2 hours to fully charge.
No matter which Equaliser tattoo machine from KWADRON you opt for, you can be sure that it will be a great addition to your workstation!