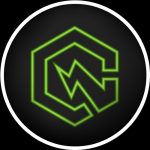 Critical Tattoo Power Supplies
December 11, 2018

December 11, 2018

uk

https://www.killerinktattoo.co.uk/skin/frontend/killer/default/images/logo.svg

https://www.killerinktattoo.co.uk/
Critical Tattoo Power Supplies are some of the sleekest and most innovative around, so we wanted to take a look at the range in-depth and show you just why artists can't get enough of them!
Founded in 2005 across the pond in Nevada, United States, Critical Tattoo Supply has been creating high-quality products for professional tattoo artists ever since.
Critical's goal has always been "to offer something innovative yet elegant and clean with no gimmicks," and this goal has been achieved time and time again.
The latest power supplies from the American company are the Critical XR and XR-D models, the spiritual successor to the well-loved CX power station series. These power supplies are great for conventions and general studio use, thanks to their user-friendly designs.
Both the XR and the Critical XR-D tattoo power supplies offer a full colour TFT display with user-selectable colour themes and large easy-to-read fonts. Tattoo artists can operate the power supplies via a touch interface, making it easy to use and also easy to cover for hygiene purposes.
The displays show several different settings, including volts, amps, speed, duty cycle, and settle. It can also record your session time with a user-set hourly rate.
Both the Critical XR and XR-D power supplies can store up to six different voltage presets, making it easy to switch between tattoo machines or between lining and shading. The voltage can be adjusted from 0 to 18 Volts in 0.1 Volt increments.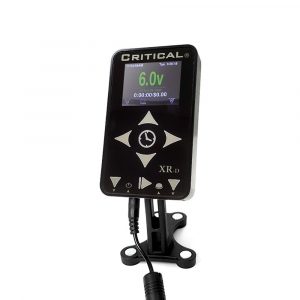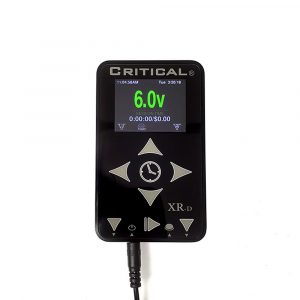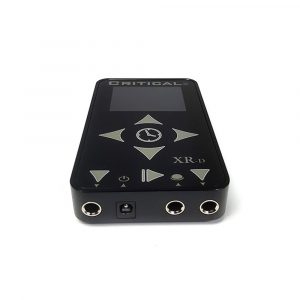 Unlike previous Critical tattoo power supplies, the housings of the XR and XR-D are made of billet aluminium that has been CNC-machined, making them more durable and hard-wearing.
Each of the power supplies can be operated with or without a foot pedal, thanks to the pedal override button. There is also a jump start mode, which can be used for rotary tattoo machines that need a little extra boost to get started.
Both the jump start feature and maintained pedal modes can now be independently assigned to the preset and output buttons – again, increasing the user-friendliness of the power supplies.
Critical has also included a magnetic mount with both tattoo power supplies, allowing artists to attach them to any magnetic surface, making them easy to reach while tattooing.
Although they share a lot of the same features, the Critical XR and XR-D power supplies do have some differences.
The Critical XR model has a single tattoo machine input, while the Critical XR-D version has a dual input, meaning that artists can connect two machines to the power supply at a time.
In addition, the Critical XR-D also has a built-in oscilloscope that is not featured on the XR. The built-in oscilloscope offers a visual approach to coil machine tuning, making it easier for tattoo artists to tune the coils on their machine.
One power supply that really caught the eye of tattoo artists everywhere upon its release was the quirky Critical Atom, as well as its successor, the AtomX.
When it was first shown to the public, the Critical Atom looked like no other power supply. Not only does the colour change depending on the voltage you're running your machine on, but it contained just the one button to operate all functions!
To change the voltage of the power supply, artists simply had to just turn the button, which, in turn, also changed the colour of the lights on the Atom. A click of the same button would also switch on your tattoo machine or change settings like maintained mode and jump start.
Expanding on this eye-catching design was the even sleeker Critical AtomX, which removed the button in favour of a digital display that also shows the exact voltage you're running your machine at.
Losing the control button also made it easier for tattoo artists to use protective film on the Critical AtomX to keep it hygienic.
Both the Critical Atom and AtomX are compatible with all coil and rotary tattoo machines and contain built-in magnets, which allow them to be attached to any magnetic surface – just like the aforementioned Critical XR and XR-D models.
Before the radical design direction of the Atom and AtomX, Critical was best-known for its well-received CX range of power supplies.
The Critical CX-1, CX-2 and CX-2R power stations are still among the best power supplies in the tattooing industry and come jam-packed with more features than you can shake a stick at.
Each of these tattoo power supplies from Critical can handle any coil or rotary machine on the market with solid power, no matter how long your tattooing session lasts.
The entire CX range of power supplies can be easily bagged or wrapped to ensure they remain hygienic.
The Critical CX-2R tattoo power supply also comes with the added benefit of being wireless compatible, meaning that you can use the Critical Wireless Footswitch with it without the need for the universal receiver.
So all in all, if you're looking for your next tattoo power supply, look no further than Critical!