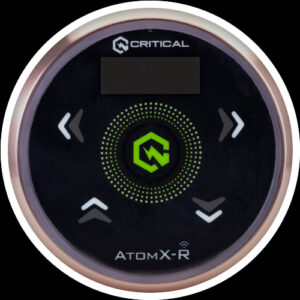 Critical Atom X-R & CXP19 Wireless Combo
The newly-released Atom X-R power supply and CXP19 wireless foot pedal from Critical are a brilliant wireless combo for running your rotary or coil tattoo machines.
The Critical Atom X-R is a small, user-friendly power supply that has been designed to include all of the same great features of the original AtomX, plus a few extra additions!
Critical has modernised the overlay design of the Atom X-R to enhance the user interface experience.
The Critical Atom X-R also has dual outputs to connect multiple tattoo machines, whether you're using rotaries or coils. Critical has also added the capability to sync the power supply wirelessly with the CXP19 foot pedal - so less wires for a cleaner set-up!
The Critical CXP19 wireless foot pedal is the ideal accompaniment to both the Atom X-R and XRR power supplies and will connect to both without the need for a cable. However, you can also attach the CXP19 to your power supply via a standard clip cord, if needed.
Critical has now released the CXP19 in an eye-catching new black and rose gold colour, so make sure to check it out!
Both the Atom X-R and CXP19 from Critical are available to order separately or as part of a wireless bundle.
Watch our video review below to learn more about the new Critical Atom X-R and how it pairs wirelessly with the CXP19 foot pedal.