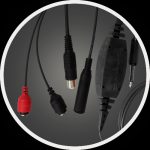 Cheyenne Cables & Adapters
June 7, 2018

June 7, 2018

uk

https://www.killerinktattoo.co.uk/skin/frontend/killer/default/images/logo.svg

https://www.killerinktattoo.co.uk/
When it comes to choosing the correct cables for your set up, it can sometimes be quite confusing.
For this reason, we're here to help you figure out which cables and adapters you need when plugging non-Cheyenne machines into Cheyenne power supplies, and vice versa.
So, it doesn't matter whether you're using a Cheyenne-branded machine or a power supply from the German company, our handy video guide below will clear up any and all confusion.
Plus, if it's foot switches and pedals that you need to get your head around, we cover that too!