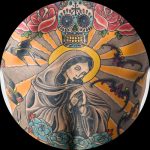 The Man Who Sold His Tattooed Skin to An Art Collector
February 10, 2017

February 10, 2017

uk

https://www.killerinktattoo.co.uk/skin/frontend/killer/default/images/logo.svg

https://www.killerinktattoo.co.uk/
Take a look at one of your tattoos. No doubt you love it so much you want to keep it on your body forever. But here's a question: would you mind it hanging up in an art gallery when you die?
That's exactly what will happen when Tim Steiner passes. Some have called it weird, some see it as art, but we can all agree that it's an interesting idea.
Rewind to a decade ago, Tim's girlfriend met a Belgian artist by the name of Wim Delvoye, who had become well known for controversially tattooing pigs.
Delvoye was looking for someone to be a human canvas for a new work, to which Tim's girlfriend called him before he agreed to take part.
Fast forward two years and 40 hours of tattooing, Delvoye's full back piece was realised on Tim, comprising a haloed Madonna, Mexican sugar skull, swallows, roses, and Asian children riding koi fish among lotus flowers.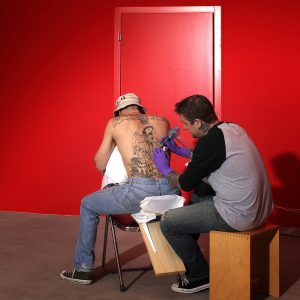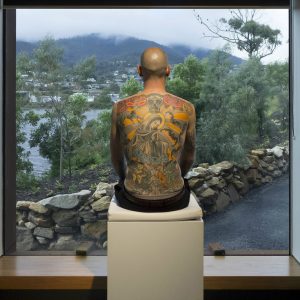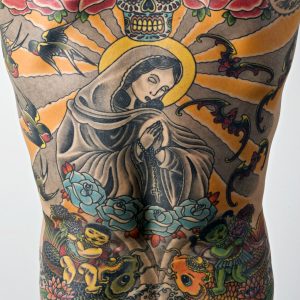 In 2008, the work, entitled TIM, was sold for €150,000 (£130,000) to German art collector Rik Reinking, with Tim Steiner receiving one third of the sum.
As part of the deal, Tim is contracted to exhibit the work, topless, in art galleries across the world at least three times a year.
He has exhibited his back tattoo in numerous places across the globe, including galleries in the UK, France, Switzerland, Germany, Italy, and China.
There is a little more to the deal than sitting around with his top off, however. Upon his death, Tim has agreed to be skinned and have his art work permanently framed and residing in Reinking's personal art collection.
That may seem macabre to some, but Tim has a very nonchalant view of the situation. "My skin belongs to Rik Reinking now," he says. "My back is the canvas, I am the temporary frame."
"Gruesome is relative. It's an old concept - in Japanese tattoo history it's been done many, many times. If it's framed nicely and looks good, I think it's not such a bad idea."
It may be an interest concept, but we think we'll be keeping our tattoos on our bodies, thanks.