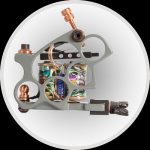 Range of Coil Tattoo Machines
May 11, 2018

May 11, 2018

uk

https://www.killerinktattoo.co.uk/skin/frontend/killer/default/images/logo.svg

https://www.killerinktattoo.co.uk/
At Killer Ink Tattoo, we stock an impressive range of premium coil tattoo machines from well-known and respected brands like FK Irons, Bavarian Custom Irons, VladBlad Irons, Emillion, and many more!
We are constantly adding new coil machines to our online range, so make sure to keep an eye out for new products on our website.
Each and every coil machine we stock is of the highest quality and built to deliver the desired results, whether it be a powerful liner or soft shader.
So, which coil machine is right for you? It all depends on your tattooing preference, but we'll take a look at some of the brands we stock and give you a better idea of what coil machines they offer.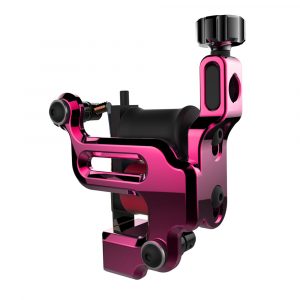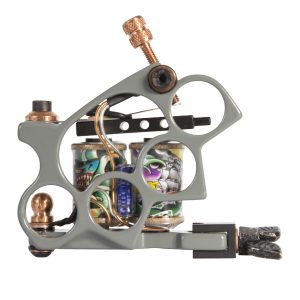 FK Irons (Fallen King Irons) produces some of the best and well-known coil machines on the market, used by many of the best tattoo artists worldwide.
Coil machines from FK Irons are known for their precision, reliability and accurate performance, with each machine made from the hardest aluminium grade on the market.
We offer stocked FK Irons coil machines online, as well as the choice to build your own machine to suit your needs.
Killer Ink Tattoo is also a proud stockist of Bavarian Custom Irons tattoo machines from Stefan Fischer, who has been hand-building high-quality coil machines since 2006 in, you guessed it, Bavaria.
Bavarian Custom Irons coil machines are truly built to last, using the finest materials and wound coils.
Each machine also comes with a lifetime guarantee on all parts, along with a certificate of authenticity, allowing artists to buy with complete confidence.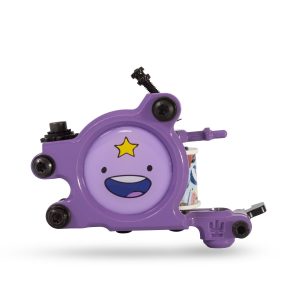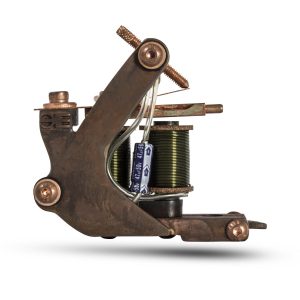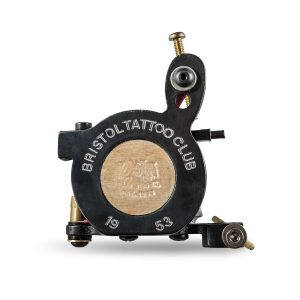 A newer addition to our range is VladBlad Irons, which offers powerful hand-built machines from Russia.
Although you wouldn't go wrong with any machine from VladBlad, we have our eye on the Adventure Time-themed ones. Like Finn says, "you don't need a mirror to know you look good," and these machines definitely look good.
Emillion has a reputation for being one of the best coil tattoo machines builders in the industry, so it comes as no surprise that we're proud to stock his hand-made machines.
Each Emillion coil machine is built in the Netherlands and comes with a lifetime guarantee. Emillion uses his interest for mathematics and physics to create the electric parts for his machines, while using his past job experience in a steel factory for the hardware.
If you're looking for a coil tattoo machine to use as a daily runner or just want a little piece of tattoo history to display in your studio, we stock machines from Bristol Tattoo Club that are perfect for either.
Bristol Tattoo Club was the brainchild of Les Skuse, Champion Tattoo Artist of All Great Britain, way back in 1951 and still produces quality old school coil machines to this day.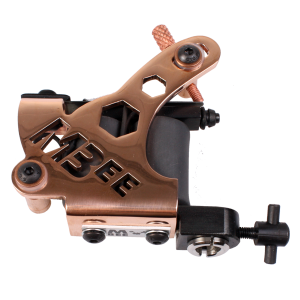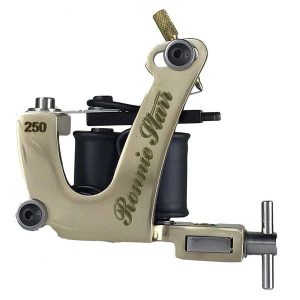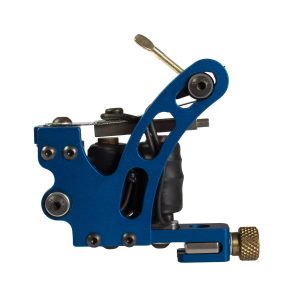 Staying with a British builder, if you have ever tried to use a Micky Bee coil machine before, you will already be aware of just why this range became so successful with tattoo artists.
All coil machines from Micky Bee are made in England, come with a certificate of authenticity and are reasonably priced – especially considering what great machines they are!
Another new addition to our coil tattoo machines range is Ronnie Starr, who has designed and created some smooth-running, long-wearing liners and shaders.
Over to another British machine builder now with Danny Harkin, who has been making professional quality hand-built coil tattoo machines since 1995.
Many of the best coil artists around are using machines from Danny, and it's easy to see why once you check out the solid built, high-quality materials used and powerful hit.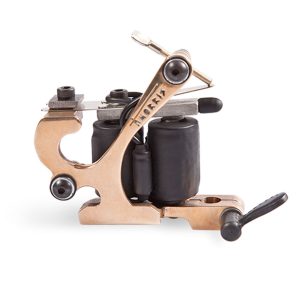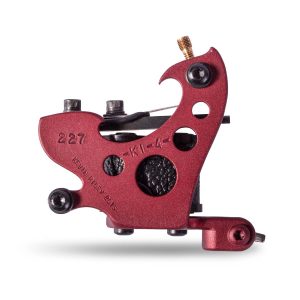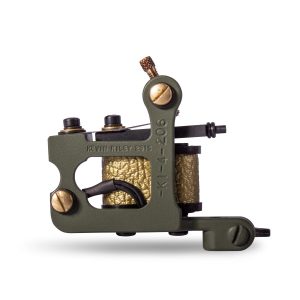 Tattoo artist Andy Morris spent years designing and carefully modifying his own hand-built machines until he arrived at 'The Chop', a unique series of cast iron and brass machines set to his own high-quality specification.
In the words of Andy, "the smooth liner and soft shader will, in the right hands, create incredible works of body art." So, if you think the right hands are yours, make sure to give Andy's machines a look!
Hopping across the pond to Philadelphia, USA sees face-to-face with custom coil machines from Kevin Riley.
As every machine is built by Kevin himself in his spare time away from tattooing, he is only able to build a limited amount of coil machines. So you better be quick if you want to join the likes of Bob Tyrrell and Stéphane Chaudesaigues in using one!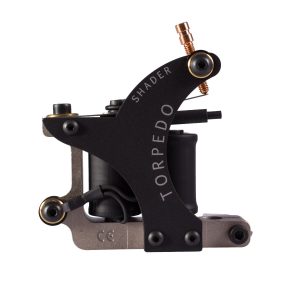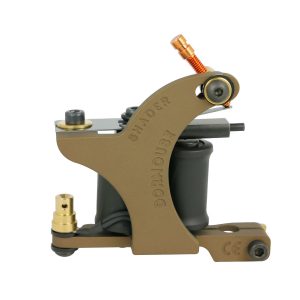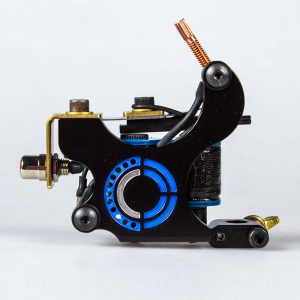 In the recent Avengers: Infinity War, the Mad Titan Thanos proclaimed, "perfectly balanced, as all things should be". Even before the movie was brainstormed by Marvel, machine builder Electric Dormouse had already subscribed to that philosophy, designing its machines with balance and ergonomics in mind.
Electric Dormouse reduced the vibrations of its coil machines and lowered their centre of gravity, making them easier to use for tattoo artists, while reducing fatigue during long tattooing sessions.
The latest machine in the company's range is the Electric Dormouse SMART V2, which is available as a Liner, Shader or Colour Packer. As with all coil machines by Electric Dormouse, the SMART V2 not only looks good, but is very reliable as well.
For futuristic-looking coil machines, make sure to check out the range from Borg Tattoo. Each machine has an eye-catching frame that is the cherry on top of the high-quality and reliable cake.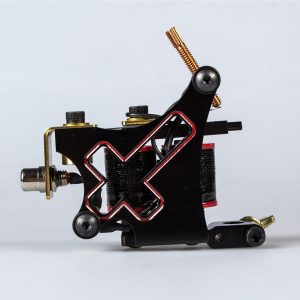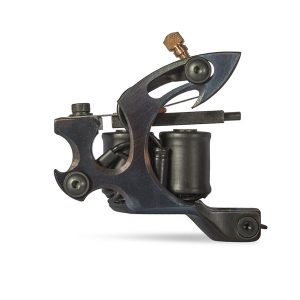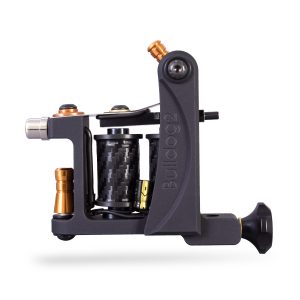 Killer Ink Tattoo is also an authorised distributor of coil machines from Polish artist Andrzej "Leńu" Leńczuk. Every Leńu tattoo machine that we stock is small yet powerful, and a great choice for artists who prefer to use coils.
Rounding off our range is a coil tattoo machine from world-renowned artist Theo Pedrada called the Bulldog 2 Liner.
As its name suggests, the Bulldog 2 Liner is perfect for all lining work and features a sand-blasted frame with black anodised finishing – basically, it's a damn good-looking machine.
So as you can see, if you're looking for a premium coil tattoo machine, then rest assured that Killer Ink Tattoo will have something in stock that is perfect for you!