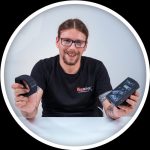 We unbox, set-up and review two wearable tattoo power supplies, the Trinity Power Supply and the iPower Watch.
Both power supplies can be worn while tattooing and offer great solutions for tattoo artists working in a confined space or at tattoo conventions.
The Trinity Power Supply is a wearable tattoo power supply that can be attached to your forearm with an adjustable strap to give you complete freedom of movement while tattooing.
The iPower Watch is a battery-operated power supply for tattoo machines. You wear it around your wrist and connect it to your tattoo machine with a short cable.
September 5, 2018

September 5, 2018

uk

https://www.killerinktattoo.co.uk/skin/frontend/killer/default/images/logo.svg

https://www.killerinktattoo.co.uk/