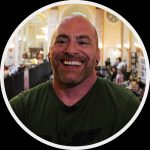 We interviewed ELECTRUM owner Rob Smead at the 2018 Liverpool Tattoo Convention about the launch of his new Gold Standard Tattoo Stencil Primer.
We also spoke to Rob about the differences between Gold Standard and the standard ELECTRUM stencil primer, as well as his future plans and the best way to apply the products.
Make sure to check it out below!
June 21, 2018

June 21, 2018

uk

https://www.killerinktattoo.co.uk/skin/frontend/killer/default/images/logo.svg

https://www.killerinktattoo.co.uk/