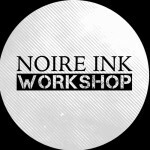 NOIRE INK
July 25, 2016

July 25, 2016

uk

https://www.killerinktattoo.co.uk/skin/frontend/killer/default/images/logo.svg

https://www.killerinktattoo.co.uk/
Noire Ink was founded in September 2013 by husband & wife tattoo artists Thomas Carli Jarlier & Vasilisa Carli Jarlier in Clermont Ferrand, France.
Noire Ink Workshop is Thomas & Vasilisa's new studio which opens in September 2016. This awesome new space will be home to world class tattooers and also feature regular guest spots for artists to come and explore the art of tattooing together.
Check out this video of some of the guys in action at this years Cantal Ink festival in Chaudes Aigues, France.
Keep up with the awesome pieces these artists are creating on their Instagram pages:
Thomas Carli Jarlier, Vasilisa Carli Jarlier, Matteo Pasqualin, Sandry Riffard, Noa Yanni
MUSIC BY C2C
Title: Down the road
Filmed by ROBIN BAR
Facebook : www.facebook.com/robinbarphotographe
Instagram: www.instagram.com/robinbar_photography/