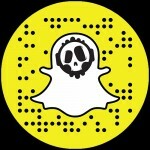 Killer Ink is now on Snapchat
September 13, 2016

September 13, 2016

uk

https://www.killerinktattoo.co.uk/skin/frontend/killer/default/images/logo.svg

https://www.killerinktattoo.co.uk/
Killer Ink is now on Snapchat!
If you're already following us on Facebook, Instagram and Twitter, but feel you need a bigger daily fix of Killer Ink to your phone, you can now add us on Snapchat.
Simply add killerinktattoo or take a picture of our Snapcode!
We plan on showing off some cool new products, along with footage from tattoo conventions and maybe behind the scenes looks inside our warehouse.
Come add us and see what we're up to!