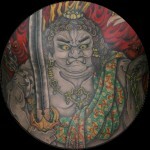 Hustle Butter Deluxe sponsored artist Choshu Horikazu
November 7, 2016

November 7, 2016

uk

https://www.killerinktattoo.co.uk/skin/frontend/killer/default/images/logo.svg

https://www.killerinktattoo.co.uk/
Choshu Horikazu isn't just a world-renowned Japanese traditional irezumi tattoo artist, he's also Richie Bulldog Certified!
Based in Japan, Horikazu started his tattoo career as a self-taught artist at the age of 25. Fast-forward to the present and he's now one of the best traditional irezumi artists in the world.
We caught up with Horikazu at the 2016 London Tattoo Convention and shot this cool little video of him at work on a killer back piece using Hustle Butter Deluxe.
Richie Bulldog, the man, the myth and the legend behind Hustle Butter, then worked his magic on the video, which you can see below!
Hustle Butter Deluxe is a 100% natural, organic, vegan replacement for petroleum-based tattoo care products.
Hustle Butter Deluxe can be used to prep skin before, as a tattoo lubricant during and to care for after the tattoo process.
Made from mango, coconut, papaya and other shea butters, Hustle Butter Deluxe is the number one tattoo care product on the market!
You can't knock the hustle!