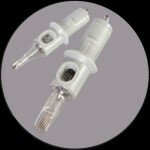 First batch of Killer Ink Cartridges
November 8, 2016

November 8, 2016

uk

https://www.killerinktattoo.co.uk/skin/frontend/killer/default/images/logo.svg

https://www.killerinktattoo.co.uk/
We've just got in the first batch of our new Killer Ink Precision needle cartridges, and we're excited for you to try them out!
The full range of Killer Ink cartridges will offer over 100 different needle configurations, so you know that all your requirements will be covered.
Every single cartridge that we stock goes through rigorous quality control checks, with only the best needles making it through the selection process.
Think of it like The Hunger Games, only with more needles and less Jennifer Lawrence…
Each needle has a smooth contoured tip that allows it to glide effortlessly through the cartridge. The tips are also transparent, so you'll have maximum visibility when tattooing!
The cartridges are also fitted with a secure membrane, which ensures that no ink or blood can pass through into the grip.
You can order from our first batch of Killer Ink Precision needle cartridges now, with prices for a box of 10 starting from £12 including VAT. Check out all available configurations here.