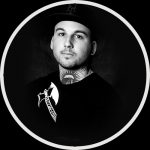 Coen Mitchell – Aurora Tattoo Studio
June 20, 2017

June 20, 2017

uk

https://www.killerinktattoo.co.uk/skin/frontend/killer/default/images/logo.svg

https://www.killerinktattoo.co.uk/
The trip to New Zealand is pretty far, so we were lucky that Killer Ink sponsored artist Coen Mitchell was guest spotting close enough to shoot a video with him!
We made the short trip up to Aurora Tattoo Studio in Lancaster to film a video with New Zealander Coen, along with tattooist Mystik and owner Emma Kierzek.
Check out our latest video below to see Coen's awesome throat piece that he did on his guest spot!
When he's not on the other end of our camera lens, Coen Mitchell can be found guest spotting all over the world – he really gets around!
Coen is known for his intricate 'mosaic flow' tattoo designs, as well as incredible dot work and mandala pieces.
He may have many fans of his work, but perhaps none more so that Australian freelance model Summer McInerney, who has spent over $15,000 on tattooing most of her body with Coen's designs. It really is no small feat, Summer has spent around 127 hours being inked by Coen – the same length of time that James Franco was trapped by a boulder in that Danny Boyle movie…
Make sure to check out Coen Mitchell's Facebook and Instagram pages so see his awesome tattoos – you'll be following his accounts in no time!