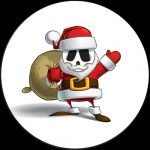 Christmas is coming at Killer Ink Tattoo…
December 1, 2016

December 1, 2016

uk

https://www.killerinktattoo.co.uk/skin/frontend/killer/default/images/logo.svg

https://www.killerinktattoo.co.uk/
'Twas the days before Christmas and you get the rest… but did you know Killer Ink Tattoo has some festive treats just around the corner?
If you fancy being the most popular artist in the studio this Christmas, but are torn on what tattoo equipment and supplies to buy your fellow artists, then don't stress… let them choose! We have various gift vouchers available – saves on wrapping paper too!
We've got £25, £50, £100 and £250 Killer Ink gift vouchers available, and to make it better, they never expire! Unlike those cheap socks your Nan gets you that will have holes in them by the end of the year…
That's not all though! Make sure to keep an eye on our social media pages as Killer Ink Tattoo will also be running an awesome Christmas competition on Facebook to win over €1,500 in prizes!
Prizes like the Stigma-Rotary Prodigy V2 tattoo machine, Critical Atom power supply, complete set of 10 Silverback Ink® Insta10Shade Greywash Series, and TONNES more make this the ultimate Christmas present for any lucky artist!
'Tis the season to be jolly.