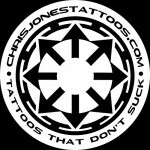 Chris Jones - Stranger Things
October 27, 2016

October 27, 2016

uk

https://www.killerinktattoo.co.uk/skin/frontend/killer/default/images/logo.svg

https://www.killerinktattoo.co.uk/
Halloween is nearly here, so we at Killer Ink thought we'd film a video that's a little stranger than usual.
We were down in Cardiff at Physical Graffiti tattoo studio to see our friend and sponsored artist Chris Jones recently and were lucky enough to see him get to work on a killer Stranger Things piece.
We thought it would make for a sick video to post over Halloween, so make sure you check it out below!
The piece is a portrait of the character Eleven from Netflix's Stranger Things.
Chris Jones has been tattooing for 16 years and has spent eight of those at Physical Graffiti in Cardiff, where he is now the co-owner.
After starting his tattooing career doing mainly new school work, Chris began experimenting with portrait work and has slowly become one of the best artists in the UK for pop culture-themed colour realism.
Chris has won many awards over the years, tattooed some awesome art and we're proud to sponsor him!
You can find Chris Jones at his website or on his Facebook, Instagram and Twitter accounts.