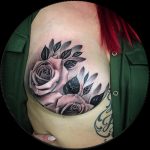 Breast Cancer Survivor Inspires with Stunning Mastectomy Tattoo
December 13, 2016

December 13, 2016

uk

https://www.killerinktattoo.co.uk/skin/frontend/killer/default/images/logo.svg

https://www.killerinktattoo.co.uk/
One brave breast cancer survivor tells the story of her diagnosis, how she wants to inspire other women and why she chose Killer Ink sponsored artist Willy G to give her a stunning mastectomy tattoo.
Just before Christmas 2012, mum-of-four Sabrina Devlin from Hilltown, County Down in Northern Ireland was diagnosed with breast cancer at the age of just 34 after getting a lump checked out.
Sabrina had to endure a mastectomy, chemotherapy, radiotherapy and reconstruction surgery, but she came out of it a stronger woman and has now told her story four years later.
Speaking to Belfast Live, Sabrina said that she hoped she could raise awareness among young women by sharing her story and pictures of her cover-up tattoo.
She said that her diagnosis came out of the blue as she "had no history of breast cancer in my family and I was only 34," adding that she thought the lump she felt six months prior was "a cyst or milk duct".
After visiting a breast clinic in Craigavon, she was told within just two hours that doctors had diagnosed her with breast cancer.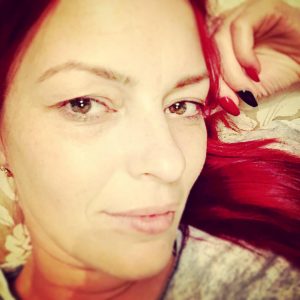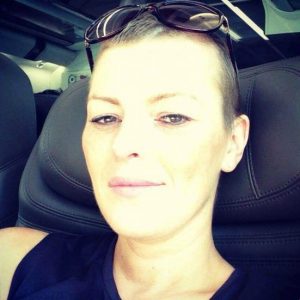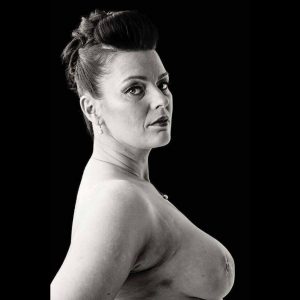 "When you hear those words, you have breast cancer, it's like an out of body experience for a few moments because it's all movement and no sound, you see someone talking but you are numb," she said.
Sabrina then had to embark on an intensive treatment course, starting with her mastectomy surgery to remove the tumour one week before Christmas in 2012.
She then underwent six months of chemotherapy before a four-week course of radiotherapy. This meant making the just under two-hour round-trip to Belfast every day for treatment.
After Sabrina's treatment, she was given the option of trying reconstruction surgery on the breast she had lost, which she decided to go ahead with.
She added that she "wanted a breast shape again because I was so young and I wanted to feel feminine."
Sabrina had the reconstruction surgery, as well as nipple reconstruction, in 2014, before then having a few sessions of surgical tattooing. Unfortunately, a later reduction surgery in her other breast was not quite what she had hoped for and Sabrina was left disappointed.
At was at this point that she was introduced to the 'Here I Am' support group, which helps cancer survivors in Northern Ireland.
The support group was looking for people to come forward and take part in a campaign to show their scars and talk about their journey, which Sabrina was happy to put herself forward for.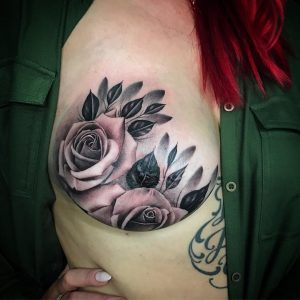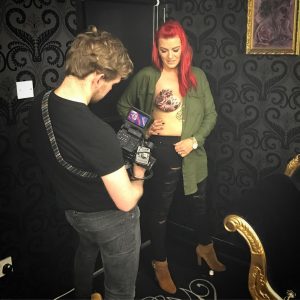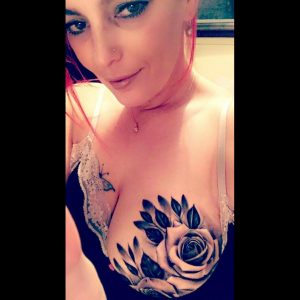 After taking part in a photoshoot, Sabrina was asked if she would like to be involved in another campaign, this time one following someone tattooing over scars.
"I was delighted she wanted me to do it. It was something I had always thought about," explained Sabrina.
As it turns out, Sabrina went to see Killer Ink sponsored artist Willy G from Whitehead, Country Antrim to get her mastectomy tattoo.
"I told them from the moment I agreed that I wanted Willy G, I have been following his work for ages and I knew he could do what I wanted."
Willy showed her some sketches but ended up changing his mind while he was tattooing, before ending up with the stunning design that you can see in the pictures.
Speaking about the tattoo afterwards on Instagram, Willy said: "The end result, seeing her reaction, crying with happiness is the best reward an artist could ask for. It was a pleasure to be part of this strong woman's journey and to finally make her happy!"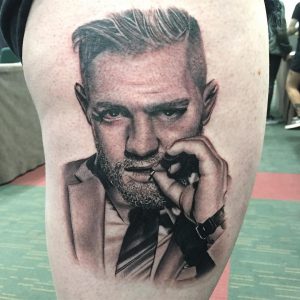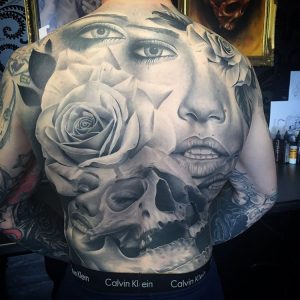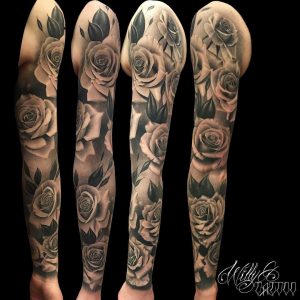 As well as being a Killer Ink sponsored artist, Willy G is an international multi-award-winning tattoo artist, having won awards like 'Best Large Black & Grey', 'Best Realism' and 'Best Oriental/Japanese'.
He started tattooing professionally in November 2012, before winning most of his awards and securing sponsorships with Killer Ink and Hustle Butter Deluxe in just his second year.
Versatile in all aspects of tattooing, but specialising in black and grey realism, Willy G runs the aptly named Willy G Tattoo studio, located just a stone's throw from the sea in Whitehead, Co. Antrim, Northern Ireland
You can find Willy G working various conventions and guest spots around the world every year. If you don't get a chance to see him in person, you can follow his work on Facebook, Instagram and Twitter.
Awesome work as per usual Willy, and the end result looks amazing, Sabrina!