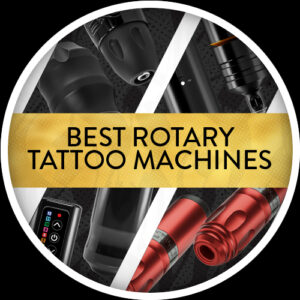 Best Rotary Tattoo Machines 2021
With so many rotary tattoo machines to choose from, it can be hard to know which is the best fit for you, so we're going to run through the best rotary tattoo machines that are available to order from Killer Ink Tattoo in 2021 to help you find your next machine!
There are a number of benefits to working with rotary machines, with many tattoo artists enjoying the low maintenance and ease of use. But no matter which rotary tattoo machine you choose to order from our online shop, you can be sure that it will serve you for years to come!
What are the Best Rotary Tattoo Machines in 2021?
When it comes down to finding the best rotary tattoo machine for you, it really comes down to personal preference, but our guide will help you find a machine that you will enjoy using for years to come.
However, if you need some more information regarding our range of rotary tattoo machines or need some help choosing the best one for you then get in touch with us today!
Spektra Flux
The Spektra Flux is the follow on from the much-lauded Xion rotary and the first wireless tattoo machine from the guys behind FK Irons and DarkLab.
Powering the Spektra Flux is a detachable battery pack known as a PowerBolt, which allows tattoo artists to run their rotary machine wirelessly without the need for cables or power supplies.
The PowerBolt is interchangeable, so artists can quickly and easily switch to an auxiliary battery when the charge runs out, meaning that you can keep working with no issues!
The Spektra Flux rotary tattoo machine is Bluetooth-enabled, allowing tattooists to pair it with DarkLab's app and Hover power supply. You can use the DarkLab app to wirelessly update the Flux with the latest firmware.
A direct drive tattoo machine that offers no give and a 4 mm stroke, the Spektra Flux excels in lining, shading and colour packing, and is also very quiet to run and creates minimal vibration.
FK Irons EXO
The FK Irons EXO is the follow on from the US manufacturer's Spektra Flux wireless tattoo machine and offers unstoppable power, whether wired or wireless.
The EXO is fitted with the same 9-Watt brushless motor that features in the Flux. It's ideal for colour packing and requires less passes to saturate ink, therefore reducing trauma to the skin.
FK Irons' EXO rotary includes a 40 mm ergonomic grip, which makes it more comfortable to use during longer tattooing sessions. The grip is also forward-weighted, giving the EXO a pen-like feel that helps to eliminate wrist pain and allow for maximum needle control.
The FK Irons EXO is available with one of three stroke lengths: 2.5, 3.2 and 4.0 mm, and can be used wired or wirelessly thanks to the interchangeable RCA Bolt and PowerBolt.
When using the PowerBolt, you can connect the EXO to the DarkLab app via Bluetooth. If you prefer to use a traditional power supply and RCA cable, opt for the RCA Bolt, which also allows you to pair the EXO with the DarkLab Hover power supply to enable E-Give.
Cheyenne SOL Nova Unlimited
The Cheyenne SOL Nova Unlimited is a wireless, pen-style rotary tattoo machine that is powered by a rechargeable battery, offering a minimum of five hours running time. The SOL Nova Unlimited comes with two batteries, along with a charger and cable, so you can simply swap out the first and continue working while your other one is charging.
Operating the Cheyenne SOL Nova Unlimited is all done through a single button and motion control. The frequency of the rotary machine can be adjusted quickly and easily by holding the button down while tilting the machine. Tilt up to increase the frequency and down to decrease.
With a wide frequency bandwidth that ranges from 25 to 140 Hz, the Cheyenne SOL Nova Unlimited is perfect for a wide range of tattooing styles. Lower the frequency of the rotary tattoo machine for dotwork and realism or turn it up for fuller and more intense lines.
The wireless SOL Nova Unlimited offers two operating modes: Steady Mode and Responsive Mode. Steady Mode will result in your rotary machine running at a controlled speed, with no give and a consistent hard hit. With Responsive Mode, the frequency and hit of the Cheyenne SOL Nova Unlimited will adjust depending on the surface you're tattooing - essentially emulating give.
The Cheyenne SOL Nova Unlimited offers adjustable needle depth from 0 to 4.0 mm and is available in either 3.5 or 4.0 mm stroke lengths, depending on your preference. The 3.5 mm stroke length version is suitable for lining and shading, while the 4.0 mm stroke variant is ideal for bold lines and colour packing.
Stigma-Rotary® Force
The Stigma-Rotary® Force is a wireless pen-style tattoo machine that features a state-of-the-art and unique dual drive system.
Stigma-Rotary®'s wireless Force pen uses a custom, German-made Faulhaber brushless motor with dual shafts to push cartridge needles with precision and power, creating a superior "force" during tattooing.
This rotary tattoo machine also uses a dual cam mechanism for isometric operation and more robustness, providing many hours of non-stop runtime throughout each day while requiring zero maintenance.
The Stigma-Rotary® Force machine comes with a removable Power Pack that offers a built-in display and controls and will offer between six and 10 hours from a single charge. This Power Pack is also Bluetooth-enabled, allowing tattoo artists to pair their wireless rotary with Stigma®'s upcoming Pilot footswitch or mobile app (to unlock even more features).
Via the Power Pack, you can customise and adjust parameters, such as voltage, motion control, and the new digital give & boost feature, which allows you to set your Stigma® Force rotary to hit softer or harder in three different levels.
Three versions of the Stigma-Rotary® Force are available, featuring one of the following stroke lengths: 2.8, 3.7 or 4.5 mm. The 2.8 mm stroke length is perfect for shading, the 3.7 mm version is a powerful all-rounder daily driver, and the 4.5 mm variant is ideal for lining and colour packing.
Inkjecta Flite X1
The Inkjecta Flite X1 is a wireless, battery-powered rotary tattoo machine that is packed to the brim with innovative technology and offers a wealth of adjustment options.
This rotary is completely wireless, so tattoo artists don't need cables or power supplies to run the Inkjecta Flite X1, allowing for maximum freedom of movement.
The Inkjecta Flite X1 is battery-powered and offers up to 8 hours of runtime. The rotary comes with two interchangeable and rechargeable Li-Ion batteries, as well as a battery charger, so you can adjust the balance of the tattoo machine to suit your style and preferences.
You can quickly and easily adjust both the voltage and needle depth of your Inkjecta Flite X1, thanks to the intuitive on-board controls. To adjust the voltage from 4.5 to 16.5 V, press the corresponding button and tilt your wireless machine - right for a higher voltage, left for lower.
The two arrow keys on the body of the Flite X1 control the needle depth, so simply press one while working to adjust - even if you're using a fixed grip.
At the heart of the Inkjecta Flite X1 is not one, but two custom nanotechnology motors: one for the drive and the other for the needle depth adjustment. Inkjecta's rotary tattoo machine is also fully compatible with cams and needle bars from the popular Flite Nano range.
Equaliser Wireless Pen V2
The Equaliser Wireless Pen V2 from KWADRON is a user-friendly rotary tattoo machine with 2 removable batteries - no more cables and power supplies!
Equaliser's wireless rotary has an aluminium housing and features a clear digital display and three buttons for operating the machine.
The Equaliser Wireless Pen V2 offers a voltage range of 5-12 V and adjustable in 0.1 V increments/decrements, with 6-10 V being the recommended range.
This rotary tattoo machine comes with an aluminium grip with a 32 mm diameter, as well as two additional non-slip silicone grips that measure in at 32 and 35 mm in diameter.
The Equaliser Wireless Pen V2 rotary machine has a 4.5 W motor, a 3.5 mm stroke, direct drive, and built-in Jump Start. The batteries that come with the Wireless Pen V2 offer up to 8 hours working time and will take around 2 hours to fully charge.
Vlad Blad Ultron Pen
The Vlad Blad Ultron Pen is a cartridge-dedicated, pen-style rotary tattoo machine that is lightweight and great for various styles.
Vlad Blad has designed the mechanism of the Ultron Pen in such a way that it is returned to its initial position by the motor, rather than the spring. This helps prevent the delay in the needle going out of the skin when using cartridges with a soft membrane. It also allows tattoo artists to work at low speeds, even with needle cartridges that have a hard membrane.
Thanks to the light weight of the Ultron Pen and the mechanism inside, it's even easier to feel the skin and control how deep you push the needle in it when working with the rotary machine.
Powering the Vlad Blad Ultron Pen is a 7-Watt motor, with the rotary tattoo machine featuring an ergonomic, autoclavable grip at one end and a protected RCA connection on the other.
The Vlad Blad Ultron Pen is perfect for all types of tattooing styles, from thin, delicate lines to fast, solid packing with large groups of needles.
Vlad Blad Avenger
The Vlad Blad Avenger is a hybrid rotary tattoo machine that is compatible with both standard tattoo needles and cartridges and easily handles any tattooing style.
After years of constantly improving its rotaries, Vlad Blad has now created a tattoo machine with the reliability of its coil offerings with the usability and lower weight of a rotary.
The Vlad Blad Avenger is a fast, versatile rotary for those who like classic-style machines, yet want to work with both standard tattoo needles and cartridges.
Vlad Blad has designed the Avenger in such a way that you don't need to readjust the rotary when you switch between needles and cartridges during the tattooing session.
Thanks to the mechanism within, you are able to start the rotary tattoo machine and work at just 2-2.5 Volts. The Avenger also features a 7-Watt motor that is three times smaller but more powerful than the previous iteration.
Spektra Xion
The Spektra Xion is a cartridge-dedicated, pen-style rotary tattoo machine that is both lightweight and ergonomic, allowing for optimal manoeuvrability – the kind of machine that tattoo artists will be able to use over long sessions.
Spektra Rotary has fitted the Xion with a specially-designed 6W MotorBolt that provides maximum torque throughout the tattooing session and ensures optimal performance of your cartridges.
The Spektra Xion is fully-adjustable, with tattoo artists able to adjust the stroke length, needle depth and give.
If you prefer a larger grip, make sure to check out the Spektra Xion Gorilla, which combines the body of the standard Xion with a larger 40 mm Gorilla grip.
The addition of the ergonomic Gorilla grip provides optimum comfort and helps eliminate fatigue from clamping around the grip when tattooing for extended periods of time. The Gorilla grip is also autoclavable, easy to cover and handle, and compatible with all tattoo cartridges.
Stigma-Rotary® Shot
The Stigma-Rotary® Shot is the only direct drive tattoo machine around with a stroke length that is quick and easy to adjust without the need to exchange parts or use tools. By simply twisting the motor, you can adjust the stroke length of the Stigma Shot on the fly from 3 to 4 mm.
This rotary is also the only direct drive machine with forced stay up function for standard needles and cartridges, which means that the needles always stop at the upper position. This function makes the Shot the safest direct drive machine available to order.
Stigma-Rotary® Thorn
The Stigma-Rotary® Thorn is a pen-style rotary tattoo machine that is the size and shape of a grip.
Measuring just 9.3 cm in length, 32.5 mm in diameter at its largest point, and weighing only 115 grams, it literally feels like you're holding just a grip.
The Stigma-Rotary® Thorn is an all-round master with its fixed 3.5 mm stroke, solid hit and smooth running. We also offer versions with a 3 and 4 mm stroke length.
Cheyenne SOL Luna & SOL Terra
The Cheyenne SOL Luna and SOL Terra rotary tattoo machines are able to run at low speeds from 25 hertz. Operate the machines on lower speeds for styles such as dot work and colour realism, or turn it up higher for fuller and more intense lines.
Both rotary machines have two operating modes, known as HardDrive and SENSIDRIVE. These modes allow you to choose between working at a controlled or regulated speed by altering the motor control.
With the HardDrive function, your machine will run at a controlled speed, with no give and a consistent hard hit. Turning the SensiSwitch will enable the new SENSIDRIVE function, meaning that the speed of the machine will be adjusted depending on the surface that you're tattooing. This is due to the motor reacting more sensitively to the resistance of the skin.
The main difference between these two rotary tattoo machines is the stroke length. The Cheyenne SOL Terra has a 4 mm stroke length, making it a great liner and colour packer. On the other hand, the Cheyenne SOL Luna offers a 2.5 mm stroke length, therefore optimising its ability for black and grey shading.
Inkjecta Flite Nano
The Inkjecta Flite Nano rotary tattoo machines are popular with many of the world's best artists today, whether it be the Lite, Titan or Elite versions.
All Inkjecta Flite Nano rotaries are cartridge-dedicated tattoo machines that are incredibly versatile and suitable for lining, shading and colouring across all styles.
Each Inkjecta Flite Nano comes with a pre-installed 3.25mm excenter, RCA connection and a custom 'Nano Technology' brushless motor with no start-up delay.
The Titan and Elite models are the most versatile Inkjecta Flite Nano rotary machines as they come with soft, medium, and hard torsion bars. These torsion bars offer tattoo artists the ability to set the hardness of their machine just the way they like it.
Both the Lite and Elite versions feature an alloy billet construction, with the Elite also coming equipped with a titanium collar vice. The Titan variant, however, has a carbon fibre frame, making it extremely lightweight and topping the scales at just 47 grams.
Cheyenne HAWK Pen
The Cheyenne HAWK Pen is well-loved by tattoo artists around the globe and has been since the debut of the prototype back in 2014.
The Cheyenne HAWK Pen was the first-ever pen-style rotary tattoo machine and is still one of the best in its category today.
The idea of the pen-like shape was to give artists the closest feel to an actual pen that you could with a tattoo machine. For this reason, tattoo artists have found that they have more control and accuracy when using the HAWK Pen.
EGO Switch V2
The Switch is EGO Rotary's long-awaited pen-style tattoo machine and the world's first machine to feature an in-built ON-OFF switch!
The EGO Switch V2 has two modes. Mode one is constant power on, meaning that you control the power of the machine via your power supply with a foot switch. Mode two is Switch mode, which allows you to turn the power on and off via the switch at the top of the machine. One press engages the power, and it will stay on until the switch is pressed again.
EGO Rotary updated the Switch to add adjustable give: turn the dial inside the machine clockwise for a harder hit and anti-clockwise for a softer one.